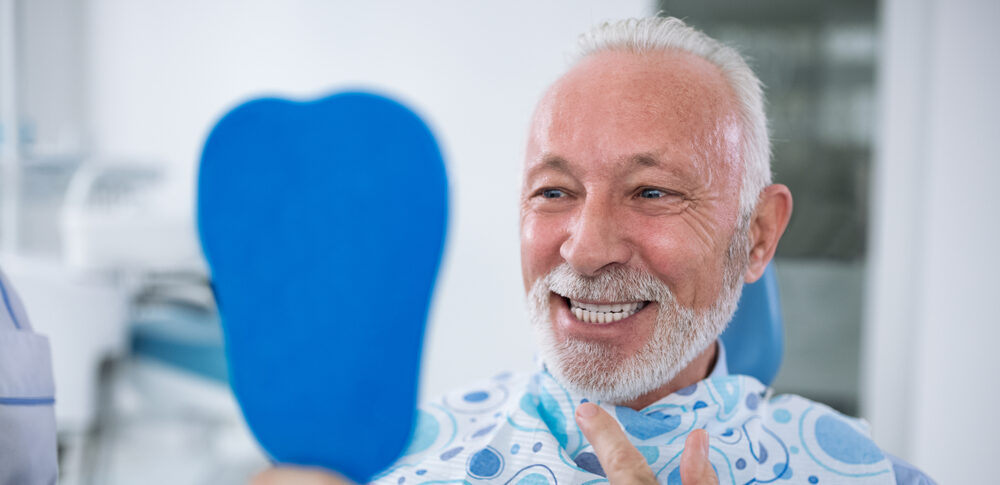 All-On-4 & All-On-6
Dental Implants
Missing all or a majority of your teeth affects your oral health and confidence in your appearance. At Leesburg Family Dental in Leesburg, Virginia, we use state-of-the-art technology and the most current practices to bring our patients the best tooth restoration treatments. We offer beautiful, permanent denture placement through All-On-4 and All-On-6 implants. 
An implant is a small titanium rod that is utilized to act as a foundation for dental restorations, commonly for dental crowns, bridges, and dentures. This rod, once surgically placed, will integrate and grow into your jawbone, developing a solid platform for the restoration.
request appointment
All-On-4 Dental Implants
The All-On-4 dental implant approach is likely to be your first choice if you need to replace all of your teeth. Instead of replacing each tooth with a dental implant, only four implants are required per arch to offer a functional, aesthetically pleasing, and long-lasting restoration. The full-arch hybrid denture is created and affixed to the four rods implanted in your jawbone. This is a hybrid denture attached to the rods and can permanently replace both the top and bottom teeth.
For dental implants to work correctly, there needs to be a sufficient amount of bone in your jawbone. If there are deficiencies, bone treatment might need to be completed before implants or dentures can be placed.
All-On-6 Dental Implants
All-On-6 dental implants are the same as All-On-4, except for the fact that six implants are needed to secure the restoration instead of four. All on six can further stabilize your dentures, making it easier to speak, chew, and eat. 
Along with All-On-4 implants, All-On-6 implants promote tissue and bone health by allowing stimulation to pass through the rods and into the bone. Without stimulation, bone and tissue can start deteriorating.
What's the Difference Between All-On-4 & All-On-6?
There are many similarities between the two types, other than using the two extra implants for further stabilization in the All-On-6. Both are used to stabilize full arches of dentures for permanent tooth replacement and allow patients' mouths and teeth to function better. 
The main differences between the two include: 
The All-On-6 are utilized by patients to generally have more extended dental arches where four implants could damage or break the denture. 

Because two extra implants are used, the All-On-6 procedure will be more costly and take more time to complete. 

The All-On-4 dental implants are placed on a slightly outer facing angle. Angled implants will help prevent dentures from breaking. In contrast, all six implants are placed into the jaw bone at a more parallel angle. Since there are more of them, the pressure is more evenly distributed. 
All-On-4 and All-On-6 dental implants are an excellent option when searching to restore your smile fully. To see if you are a candidate, please get in touch with our office, Leesburg Family Dental, to make an appointment to meet with Dr. Mualla. 
If you are looking for All-On-4 and All-On-6 dental implants in Leesburg, Virginia, come to Leesburg Family Dental. We help anyone residing in local areas with all their dental needs. To answer any questions regarding All-On-4 and All-On-6 dental implants, please call us to speak with one of our team members.
We look forward to hearing from you.