Modern Dentures
in Leesburg, VA
Are your missing teeth wreaking havoc on your daily life? Do you often find yourself struggling to eat your favorite foods or hiding your smile in photos? You deserve to have a beautiful, complete smile that you love to show off! Our team creates advanced, custom dentures to give you a complete smile that doesn't interfere with your activities and passions! If you have been looking into taking advantage of a total smile replacement, dentures might be the right thing for you. Please continue reading to learn all about dentures and how they will benefit you specifically.
Contact Us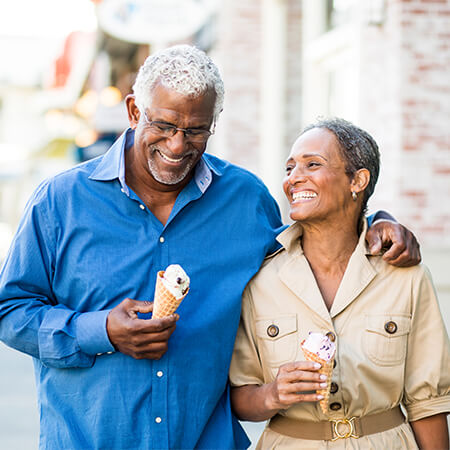 Types of Dentures
Traditional
Our traditional complete dentures are intricately designed to fit snugly along the gumline. In addition to their custom fit, we also provide extra-strength denture adhesives to keep it in place. Since partial dentures only replace some of the teeth and not the entire arch, they discreetly use a wire apparatus to attach to existing teeth for additional support.
Each set of traditional dentures comes in two dental arches, one for the top and one for the bottom. It is possible only to need one dental arch. Each arch is created using artificial gums and teeth to create a new and natural-looking smile. 
This type of denture is removable, allowing the patient to take them out and clean them whenever wanted or needed. Many enjoy having removable dentures when they want a break.
Implant-Supported
Some patients find the removable, non permanently stabilized dentures as a hassle and want something more stable. To give our patients what they want, we offer implant-supported dentures that connect two rows of artificial teeth onto the jawbones. 
Implants are small, titanium posts that are surgically placed into the jawbone. They create a stable, permanent foundation for replacement teeth to connect to on top. Many patients struggle with uncomfortable, ill-fitting dentures, and implants are sometimes the perfect solution. With the help of anywhere from four to eight implants, a denture can easily snap onto them. Once the denture is securely attached, it won't move or budge for the rest of the day.
Only a dental professional has the tools necessary to remove the denture if needed.
Learn More
Candidacy
We love helping our patients have a new and robust smile after their natural teeth haven't worked for them. For the most part, the patients who utilize both traditional and implant-supported dentures have lost most of their teeth or have existing dental issues that they can't restore. 
When looking into dentures, meeting with one of our dental professionals in a consultation appointment is necessary. In this appointment, we will look at your lasting teeth, the density of your jaw bone, and your overall health history. It is essential for a patient acquiring implant-supported dentures to have a dense and healthy jawbone to support the denture.
If there are any existing health conditions, they will need to be taken care of before treatment for the dentures can begin.
Why Dentures? 
Our professionals at Leesburg Family Dental have been helping patients receive their new, perfect smiles through dentures for years. Having multiple missing teeth can affect your overall health and quality of life. Through dentures, we can help you restore the entire tooth function that allows effortless eating and speaking…
Dentures are the restorative option to choose when needing primary tooth replacement because they can replace all at once. There are other tooth replacement options, but it would require extra unneeded procedures and costs. 
If you want to revitalize your smile by replacing your missing teeth, please call us to learn more about dentures in Leesburg. We are more than excited to see you in our office and help you get the smile of your dreams.